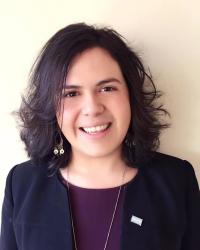 Biography
M.A., Feminist Studies, University of Washington, 2020
B.S., International Politics: International Law, Norms, & Institutions, Georgetown University, 2011
Catalina is a transgender, refugee, Colombiana-Latina, solopreneur, and Managing Principal at Consult Catalina, a diversity and social impact consulting firm.
Catalina is fluent in Spanish and English, and an experienced political analyst, social justice organizer, and feminist teacher who excels at creatively thinking across disciplines and industries. She draws on her wide range of knowledge, skills, and experience to engage with the social and political implications of the advocacy, campaigns, messaging, and data that surrounds us.
Catalina is the first transgender immigrant Latina appointed as a Commissioner for the D.C. Office of Latino Affairs from December 2013 to June 2017. Catalina was also hand-picked by the 2016 Bernie Sanders Presidential Campaign to join the Vermont U.S. Senator's LGBT Policy team, which led to her recognition by RollingStone Magazine as one of "16 Young Americans Shaping the 2016 Election" and one of Mitu's "Young Latinos that are Leaving a Footprint in Politics." Catalina is the recipient of the 2017 Woman of Excellence Award from the D.C Mayor Bowser Office of Women Affairs and the 2017 Advocacy Award by the Latino GLBT History Project.
Catalina's research focuses on transnational relations, decolonial methodologies, following forced migration patterns, pursuing refugee justice, across-difference solidarity building, historicizing U.S. and Latin American foreign policy, engaging transgender and queer theory, monitoring of surveillance technologies and practices, and tracing political economies.