Professor, Gender, Women & Sexuality Studies; Adjunct Professor, American Ethnic Studies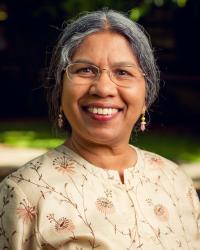 Contact Information
Accepting new graduate students
Biography
Priti Ramamurthy is a professor in the department of Gender, Women and Sexuality Studies. An ethnographer, she has returned to the same villages in the Telangana region of southern India for three decades, to understand the relationship between the social reproduction of families, lives and livelihoods and processes of agrarian transformation. Ramamurthy's articulation of feminist commodity chain analysis, as a way to track the creation of value and gendered identities, is a methodological contribution to studies of gender and globalization. Her interdisciplinary publications appear in the journals like World Development, Cultural Anthropology, Feminist Studies, SIGNS, and Environment and Planning A and in edited volumes including Routledge Handbook of Gender in South Asia (Routledge, 2014), Gendered Commodity Chains: Seeing Women's Work and Households in Global Production (Stanford, 2014) and Marrying in South Asia: Shifting concepts, Changing Practices in a Globalising World (Orient Blackswan, 2014). She is a co-editor and co-author of The Modern Girl Around the World: Modernity, Consumption, Globalization (Duke, 2008).
Fellowships and Grants
Senior Research Fellowship, American Institute for Indian Studies, 2006-2007.  
Royalty Research Fellowship, University of Washington, 2006-2007.  
Modern Girl Around the World Research Project with Professors Tani Barlow, Madeline Dong Yue, Uta Poiger, Lynn Thomas and Alys Weinbaum; Sponsored by Simpson Center for the Humanities, Institute for Transnational Studies, the UW Graduate School, Comparative Law and Society Center, and the Allen Libraries Endowment
 Priti Ramamurthy's research is in conversation with:
Shirley Yee's archival work on community economies in New York. We are both interested in how communities—cross cut by, in Yee's case, class and race, and, in Ramamurthy's, class and caste—come together in exchange relationships which are also the grounds for different expressions of gendered identities, desires, and indeed, what "economy" itself is.
Sasha Welland's and Amanda Swarr's research intersects with Ramamurthy's in the ways they all trouble the "transnational" in transnational feminist research. Through their ethnographic research in India, China and South Africa, based on epistemic and activist collaborations, they seek to expand the boundaries of feminist knowledge production and "area" studies.
The relationship of gendered identities, labor patterns and labor organizing, developmentalist states, and global political economy inform the research of Shuxuan Zhou, Jiwoon Yu-Lee, and Elizabeth Arreola Ramirez and Priti Ramamurthy.
South Asian Feminism, political economy, development, and gender formation in India are interests shared with Akanksha Misra and Chandan Reddy.
Transnational feminism in the US and global political economy is a shared interest of Lauren O'Laughlin and Priti Ramamurthy.