Professor, Gender, Women & Sexuality Studies; Adjunct Professor, American Ethnic Studies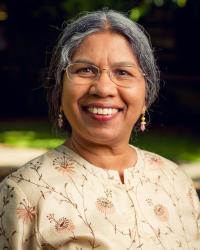 Biography
Priti Ramamurthy is a professor in the department of Gender, Women, and Sexuality Studies. A feminist political economist, she is interested in questions of social reproduction: how do people who are marginalized by politics and economic development craft meaningful lives in the process of reproducing themselves every day and across generations? Two major research studies have engaged these questions. The Country and the City: Poetic Lives in India's Informal Economy is about the lived experiences and desires of women and men, many from subordinated caste groups, who toil in India's cities even as they remain enmeshed in on-going lives in their villages. For this project, she and her collaborators conducted over a hundred oral history interviews with poor urban migrants in Delhi and Hyderabad and went back with ten to their villages. The second study is about the relationship between the social reproduction of rural families and processes of agrarian transformation in the Telangana region of southern India. For this, she has returned to the same villages for three decades. Ramamurthy's articulation of feminist commodity chain analysis, a way to track the creation of value and gendered identities, is a methodological contribution to studies of gender and globalization. A third project resulted in the co-edited and co-authored The Modern Girl Around the World: Modernity, Consumption, Globalization (Duke, 2008).
Fellowships and Grants
Society of Scholars, Simpson Center for the Humanities, 2019-20.
Fulbright-Nehru Academic & Professional Excellence Fellowship, 2017-18.
ACLS Research Collaborative Fellowship, 2015-17.
American Institute of Indian Studies Fellowship, 2015-2016.
American Institute for Indian Studies Fellowship, 2006-2007.  
Royalty Research Fellowship, University of Washington, 2006-2007.  
Modern Girl Around the World Research Project. Sponsored by Simpson Center for the Humanities, Institute for Transnational Studies, the UW Graduate School, Comparative Law and Society Center, and the Allen Libraries Endowment
 Priti Ramamurthy's research is in conversation with:
Shirley Yee's archival work on community economies in New York. We are both interested in how communities—cross cut by, in Yee's case, class and race, and, in Ramamurthy's, class and caste—come together in exchange relationships which are also the grounds for different expressions of gendered identities, desires, and indeed, what "economy" itself is.
Sasha Welland's and Amanda Swarr's research intersects with Ramamurthy's in the ways they all trouble the "transnational" in transnational feminist research. Through their ethnographic research in India, China and South Africa, based on epistemic and activist collaborations, they seek to expand the boundaries of feminist knowledge production and "area" studies.
The relationship of gendered identities, labor patterns and labor organizing, developmentalist states, and global political economy inform the research of Shuxuan Zhou, Jiwoon Yu-Lee, and Elizabeth Arreola Ramirez and Priti Ramamurthy.
South Asian Feminism, political economy, development, and gender formation in India are interests shared with Akanksha Misra and Chandan Reddy.
Transnational feminism in the US and global political economy is a shared interest of Lauren O'Laughlin and Priti Ramamurthy.