Chair, The Department of Gender, Women, & Sexuality Studies; Professor, Gender, Women & Sexuality Studies; Adjunct Professor, The Department of History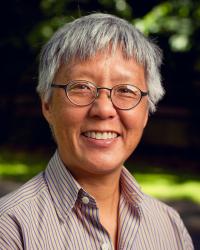 Biography
Ph.D., History, Ohio State University, 1987
M.A., History, Ohio State University, 1983
B.A. University of Scranton, 1981
Professor Yee's training is as a historian of gender, women, race & ethnicity in the United States. She has been a member of the Gender, Women & Sexuality Studies faculty since 1988. She served as Chair of the department from 1995-2001.
Fellowships and Grants
Royalty Research Grant, University of Washington. 2000-2001
Senior Society of Scholars Program, Center for Humanities, University of Washington, 2000-2001
Humanities Alumni Award of Distinction, Ohio State University, June 2000
Professor Yee's research and teaching connects with nearly all her colleagues in GWSS in some way: Priti Ramamurthy's research on gendered paid and unpaid labor in the family or household and in the community at large; Michelle Habell-Pallan's work on popular culture and race & ethnic community formations; Luana Ross's work on history, representation of indigenous peoples Angela Ginorio's work on violence and Nancy Kenney's work on reproductive technologies; Amanda Swarr's work on sexualities.  All of these topics have historical foundations and appear in Yee's courses on women's history.  Ramamurthy's and Habell-Pallan's research has the most direct connection to Yee's research on the histories of racial/ethnic community formation and her newest work on the work and the production of the popular and material culture in the history of mourning rituals and the U.S.  funeral industry.
Social History of American Women to 1890
20th Century History of Women in the U.S.