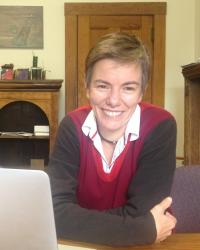 Contact Information
Office Hours:
Spring Quarter 2020 - Fridays 10:00 a.m. - 12:00 p.m. via Zoom
Biography
Cricket Keating is an Associate Professor in the Gender, Women, & Sexuality Studies Department.  Her research is in the areas of political theory, decolonial politics, popular education and critical pedagogy, queer politics, transnational feminist theory, and technofeminism.  In her work, she explores ways in which people have both imagined and struggled to build more inclusive, egalitarian, and participatory models of political collectivity. In particular, she analyzes ways in which people have rethought democracy in moments of postcolonial and decolonial transition. What alternate models of political collectivity have people created? What are the limits of these models in terms of struggles for gender, racial, indigenous, caste, sexual justice, among others, and how have people pushed against these limits? She is the author of Decolonizing Democracy: Transforming the Social Contract in India (Penn State University Press, 2011). Her articles have been published in Signs, Political Theory, International Journal of Feminist Politics, Hypatia, Women's Studies Quarterly, and New Political Science as well as in several edited volumes. 
Her current work highlights and theorizes practices of participatory engagement in a number of contexts and looks at contemporary sexual politics in transnational perspective. This work includes several collaborative projects. With María Lugones, Keating is working on a book, Educating for Coalition: Popular Education and Contemporary Political Praxis, which draws upon their twenty years of collaborative work in communities of color in the U.S. as fellow members of the popular education collective Escuela Popular Norteña. From these experiences, they elaborate a practice of popular education that addresses the complexity of multiple, intersecting forms of oppression and that takes up forms of everyday, often hard to recognize, resistance. Another book project, From Nation to Plurination: Resignifying the State, Economy, and Family in Ecuador, co-written with Amy Lind, examines key concepts in social, political, and economic life in Ecuador's 2008 Constitution.  Along with Susan Burgess and Brettschneider, she is an editor of LGBTQ Politics: A Critical Reader, forthcoming from NYU press, which focuses on various aspects of the study of LGBTQ politics and theorizes future directions for the movement.