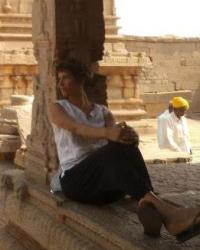 Contact Information
Office Hours:
Mondays 12:20-1:20 and by appointment
Biography
M.A. Cultural Studies, Sabanci University, Istanbul, Turkey, 2011
B.E. Electronics and Telecommunications, JNEC, Aurangabad, India, 2000
Akanksha is originally from India, although she was raised in Malaysia for several years of her early life during which time she got to travel across South East Asia. Even later in India she lived in various parts of the country and after graduating as an engineer and working for the electronics company Philips, traveled extensively to North America, Europe, East Africa, and the Middle East. She spent five years living and working in Istanbul, Turkey where she earned her Masters in Cultural Studies at Sabanci University. Driven by her personal experiences and academic interests, she decided to focus on violence against women and children, and especially incest for her Masters research. She studied feminist organizations in Turkey and India working with adult survivors of incest and the discourses they generate about this much taboo topic in both countries. After her graduation in 2011, she resumed working with a private school in Istanbul where she had worked prior to her Masters, in developing cultural and gender awareness projects with middle school children. This experience was invaluable as it taught her that it was impossible to alleviate gender equality without making gender issues a core aspect of children's lives, including in schooling and education. This motivated her to apply to the UW GWSS department, where she is currently a fifth year Ph.D. student, to once again do a comparative study between Turkey and India of Sex Education programs and sexuality in schools. Akanksha was a TOP Scholar at the UW and an American Association of University Women (AAUW) fellow for the year 2013-14. She also  won the prestigious Sakıp Sabancı International Essay Award for her essay on girls' education in Turkey and is an IPS scholarship, UW Fritz-Boeing Fellowship, and Taraknath Das Funding Fellowship recipient. She spent the academic year 2016-2017 conducting fieldwork in Istanbul, Turkey and since 2017 has been based in Hyderabad, India supported by the AIIS Junior Researcher Fellowship for the same.